Summer Holiday Activities
| 22nd July to 30th August 2019
We've got an exciting selection of events going on at The Pool this summer holiday...
Summer Climbing Course
This summer holiday at Climb Newcastle, we are going back to basics with our Summer Programme and helping you answer some important questions about climbing.
Mondays are all about balance with our Monster Moves session for 5-7 yr olds…..can they finish the Monster Relay? Can they Make their Monsters Move and will they survive the Monster Attack? Our 8-11yr old session is Balance Like a Boss, where there will be some serious Noodle Negotiation going on and did I hear someone shouting "what do you mean NO HANDS?"
Wednesdays are all about your feet, with Funky Footwork for 5-7yrs olds… who will get the biggest number on our Toe Tastic Totals Board? And why are my toes smiling at me? Our 8-11yr old session is Flawless Feet where you will find out exactly what the Red Arrows and Flip Flops have to do with climbing!
Fridays feature our top tips for getting to the top, with Super Secret Skills for 5-7 yr olds and Superfly Secret Skills for 8-11yr olds...we can't tell you anything about them I'm afraid, it's Super Secret!!
3-4pm Monday/Wednesday/Friday: 5-7 year olds.
4-5pm Monday/Wednesday/Friday: 8-11 year olds.
Complete all 3 sessions and receive a very special Climb Newcastle certificate
The summer course is £10pp/session or £25 for 3 sessions upfront. Booking is required on (0191) 276 2174 or info@climbnewcastle.com.
Rock Stars Sessions
Supervised fun from age 3 upwards
Climbing sessions with an emphasis on fun, these are ideal for first-timers to climbing.
12-1pm daily: 3-5 year olds.
1-2pm daily: 6-9 year olds.
2-3pm daily: 10+ year olds.
Rock Stars also runs every weekend. See our coaching page for more information.
Rock Stars sessions are £8pp/session. Booking is required on (0191) 276 2174 or info@climbnewcastle.com.
Family Introductory Sessions
Our family foundation sessions are the session to do if you want to get started climbing as a family. This session is a hybrid of our rock stars sessions and our adult foundation session, giving the basic safety info for the adults, whilst keeping it fun for the kids and giving you all useful hints on how to climb and use the centre. The session lets you come back at any time in the future without a coach.
We'll run these sessions wherever we can fit them in, or see below for information on our parent's weekend.
Family foundation sessions are £15pp adults, £10pp under 14s. Booking is required on (0191) 276 2174 or info@climbnewcastle.com.
Parents Weekend
Would you like the flexibility to bring your child climbing and supervise them yourself? Do you climb, but would like to pick up some tips that you can pass on to help develop your child's climbing? This weekend is for you!
9am - 12pm: An open session when a coach will be on hand to induct parents with the basic safety skills to use the centre safely and supervise a child, or to offer coaching tips! No booking is required for this session. Normal entry price (£8.75 adults, plus £3 if shoes required).
12-3pm: Three hour-long slots for family induction sessions, offering the chance to get started as a family at a special discounted price of £10pp adults, £5pp under 14s. Booking is required on (0191) 276 2174 or info@climbnewcastle.com.
Additional academy sessions
We are running our normal morning academy sessions every weekend, with additional sessions for all age groups:
3pm Tuesdays: all ages.
3pm Thursdays: all ages.
As usual, booking is required on (0191) 276 2174.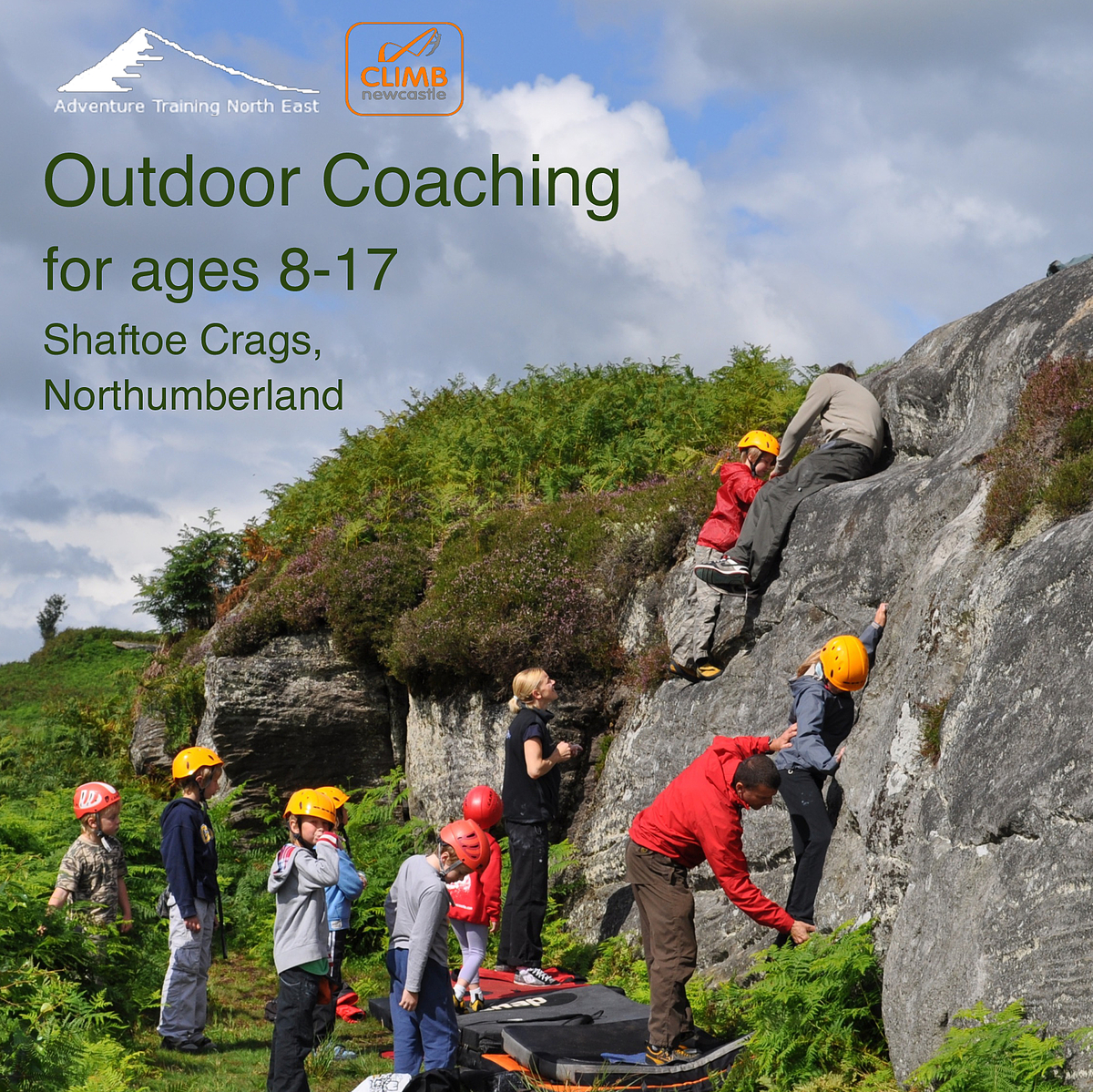 Outdoor coaching at Shaftoe Crags, Northumberland
Taken by Climb Newcastle coach Suzan Dudink, these sessions at Shaftoe Crags, Northumberland, are perfect for keen indoor climbers who would like a taste of climbing outside. We provide the mats and expert guidance on the specific techniques required for climbing on rock. Run in association with Adventure Training North East
10-12pm or 1-3pm on Tuesday 27th August for ages 8-17
The outdoor session is £25pp. Booking is required in person at the centre reception at The Pool.
Extended opening
We are open at The Pool as follows during the school holiday:
Mon - Fri
12:00 - 21:00

Sat - Sun
09:00 - 17:00
Important information about supervision of children
• Children must be supervised by either a competent climber or a Climb Newcastle coach. This means that if you are not a competent climber you will need to book your child into a session.
• Competent climbers can sign in and supervise novices or under 18s but this is limited to two only, as per Association of British Climbing Walls (ABC) guidelines.
• Supervision is just that. Please ensure that you are actively supervising and chidren are following rules, for example not running on mats.
• Over 14s can be signed off to climb unsupervised if they are a competent climber and suitably behaved (as assessed by a staff member); they must have a registration completed by a parent.
• All participants must register and agree to the terms of the centre. For under 18s this must be filled out by a parent/gaurdian. You can save time by doing so in advance here.