Annual Spring Boulder Open (ASBO) 23
The 2023 Annual Spring Boulder Open (ASBO) takes place on Saturday May 13th. It's a night when we pull out all the stops, with a fun competition to take part in during the day and a spectacular final in the evening.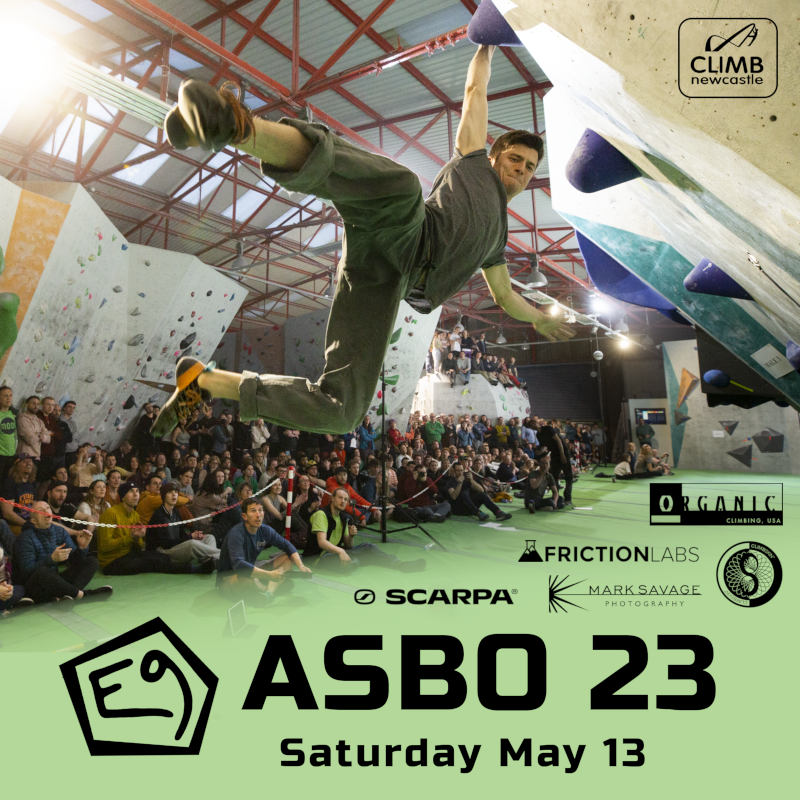 How to take part
When and where?
ASBO 23 takes place at The Valley on Saturday 13th May 2023.
How much does it cost?
Taking part is free with your normal entry fee! If you don't want to try the climbs then you can also spectate for free!
Can I spectate
Oh yes, that's the best part! You'll want to come down to watch the finals - which are always epic! They will start at 8:30pm
What else is important?
Think about your travel arrangements... it is going to be extraordinarily busy. We recommend public transport if you can, and if not think about parking and walking in from Byker town centre, Ouseburn or The Pool. We also have tons of internal bike parking.
More information on travelling to The Valley can be found here.
How do I take part?
Competing is without a doubt the best way to take part in ASBO 23. The qualifying problems are similar in standard to our Winter Bouldering Series, covering the full range 3 to 7c+! Simply grab a scorecard at reception when you start, fill it in and drop it back when finished. Competing costs no more than your standard entry to the centre - plus you'll get a free t-shirt! (If you're one of the first 250 odd in!)
ASBO 23 Schedule:
Qualifying: 09:00 - 19:30
Finals: 20:30 - late
The ASBO finals are always great to watch. The top 4 male and female competitors will battle it out in a spectacular finale, each taking turns to take on the imagination of our route-setting team. Spectating is free; if you want to climb before, just pay your normal entry.
Behind the scenes
Our international team of in-house route-setters will be on hand to set the competition problems. Setting starts early in the week with the finals set and tested on the Thursday (before being marked and stripped). The testing team, of Chris, Suzan and Andy Porter make sure that the problems are vaguely sensible and possibly climbable! Then the finals come down and the qualifiers go up. Once the qualifying is finished you will see the setting team, plus helpers, take down the qualifying problems and put up the finals.
ASBO Winners
| | | |
| --- | --- | --- |
| ASBO 22 | Louise Flockhart | Orrin Coley |
| ASBO 19 | Ajda Remskar | Orrin Coley |
| ASBO 18 | Michaela Tracy | Orrin Coley |
| ASBO 17 | Michaela Tracy | Orrin Coley |
| ASBO 16 | Michaela Tracy | Dave Barrans |
| ASBO 15 | Leah Crane | Adam Watson |
| ASBO 14 | Sid Graham | Dan Varian |
| ASBO 13 | Alison Monks | Jonah Vinsome |
| ASBO 12 | Hannah Wilson | Bobby Gowdy |
| ASBO 11 | Joanne Quinan | Nigel Callender |
| ASBO 10 | Joanne Quinan | Joe Wilson |
| ASBO 09 | Karin Magog | Nigel Callender |