E9 ASBO 19
| 10th May 2019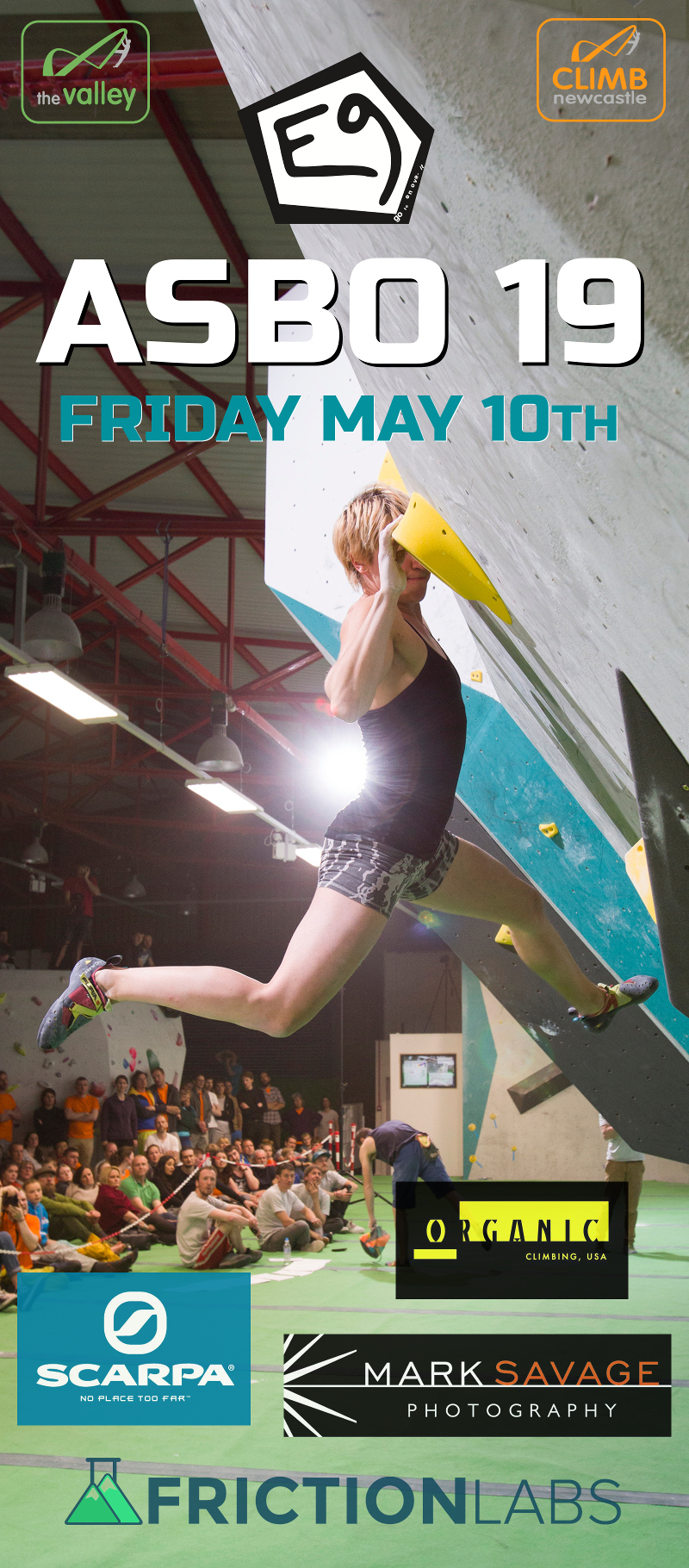 ASBO 19 takes place on Friday May 10th. It's a night when we pull out all the stops, with a fun competition to take part in during the day and a spectacular final in the evening.
When and where?
ASBO 19 takes place at The Valley on Friday 10th May 2019, from 12 midday til late.
How much does it cost?
Taking part is free with your normal entry fee! If you don't want to try the climbs then you can also spectate for free!
Are there prizes?
There are; £500 is at stake for the male and female ASBO champions. Plus prizes from our sponsors. Ask an ASBO champion though and they'll tell you it isn't about the money!
Can I spectate
Oh yes, that's the best part! You'll want to come down to watch the finals - which are always epic! They will start at 9:30pm
What else is important?
Think about your travel arrangements... it is going to be extraordinarily busy. We recommend public transport if you can, and if not think about parking and walking in from Byker town centre, Ouseburn or The Pool. We also have tons of internal bike parking.
More information on travelling to The Valley can be found here.
How do I take part?
Competing is without a doubt the best way to take part in ASBO 19. The qualifying problems are similar in standard to our Winter Bouldering Series, covering the full range 3 to 7c+! Simply grab a scorecard at reception when you start, fill it in and drop it back when finished. Competing costs no more than your standard entry to the centre - plus you'll get a free t-shirt! (If you're one of the first 200 odd in!)
ASBO 19 Schedule:
Qualifying: 12:00 - 21:00 (20:45 competition wall problems)
Finals: 21:30 - late
The ASBO finals are always great to watch. The top 4 male and female competitors will battle it out in a spectacular finale, each taking turns to take on the imagination of our route-setting team. Spectating is free; if you want to climb before, just pay your normal entry.
Behind the scenes
Our international team of in-house route-setters will be on hand to set the competition problems. Setting starts early in the week with the finals set and tested on the Wednesday (before being marked and stripped).
The testing team, of Chris, Suzan and Andy Porter make sure that the problems are vaguely sensible and possibly climbable! Then the finals come down and the qualifiers ho up. Once the qualifying is finished you will see the setting team, plus helpers, take down the qualifying problems and put up the finals. Remember they've tested these *cough* thoroughly, they aren't just making it up as they go along!
ASBO Winners
| | | |
| --- | --- | --- |
| ASBO 19 | Ajda Remskar | Orrin Coley |
| ASBO 18 | Michaela Tracy | Orrin Coley |
| ASBO 17 | Michaela Tracy | Orrin Coley |
| ASBO 16 | Michaela Tracy | Dave Barrans |
| ASBO 15 | Leah Crane | Adam Watson |
| ASBO 14 | Sid Graham | Dan Varian |
| ASBO 13 | Alison Monks | Jonah Vinsome |
| ASBO 12 | Hannah Wilson | Bobby Gowdy |
| ASBO 11 | Joanne Quinan | Nigel Callender |
| ASBO 10 | Joanne Quinan | Joe Wilson |
| ASBO 09 | Karin Magog | Nigel Callender |
Below: the ASBO 18 finalists and crowd
ASBO 19 Results
Female Final
| | | | |
| --- | --- | --- | --- |
| | Name | Tops/attempts | Bonuses/attempts |
| 1 | Ajda Remskar | 2/5 | 3/4 |
| 2 | Pippa Watkin | 1/1 | 2/5 |
| 2 | Robin Casey | 1/1 | 1/1 |
| 4 | Libby Barrow | 0/0 | 1/2 |
Male Final
| | | | |
| --- | --- | --- | --- |
| | Name | Tops/attempts | Bonuses/attempts |
| 1 | Orrin Coley | 4/5 | 4/5 |
| 2 | Nigel Callender | 2/7 | 3/6 |
| 2 | John Schindler | 1/5 | 2/9 |
| 4 | Daniel Smith | 0/0 | 3/7 |
Qualification round
| | Name | Score |
| --- | --- | --- |
| 1 | John Schindler | 300 |
| 2 | Orrin Coley | 297 |
| 3 | Nigel Callender | 288 |
| 4 | Daniel Smith | 284 |
| 5 | Cameron Luke Smith | 281 |
| 6 | Tim Blake | 276 |
| 7 | Dan Pull | 275 |
| 7 | Jake Oughton | 275 |
| 9 | Pete Blair | 271 |
| 10 | Dave Sutton | 268 |
| 11 | Cameron E.Smith | 263 |
| 12 | Oliver Hopwood | 261 |
| 13 | Robin Casey | 259 |
| 14 | Pippa Watkin | 258 |
| 14 | Rowan Pughe | 258 |
| 14 | Tom H | 258 |
| 17 | Sam Bullock | 256 |
| 18 | Ajda Remskar | 255 |
| 18 | Lewis Hobson | 255 |
| 18 | J Coatsworth | 255 |
| 21 | Ben Davidson | 254 |
| 22 | Jacob Dillerstone | 253 |
| 22 | Will Smith | 253 |
| 24 | Libby Barrow | 250 |
| 25 | Louise Flockhart | 249 |
| 26 | Joe Mawhood | 247 |
| 27 | Kai Main | 245 |
| 28 | Aidan Nelson | 244 |
| 28 | Dave Clarke | 244 |
| 28 | Ben Robertson | 244 |
| 31 | Allyn Layton | 243 |
| 31 | Tommy B | 243 |
| 33 | Angus Hargreaves | 242 |
| 33 | Em Rickinson | 242 |
| 35 | Oliver Smith | 239 |
| 35 | Sid Graham | 239 |
| 37 | Reuben Tomlinson | 238 |
| 37 | Callum Noble | 238 |
| 39 | Andrew Mahon | 235 |
| 40 | Jack | 234 |
| 40 | Lily Kinnersley | 234 |
| 42 | David Bradburn | 227 |
| 42 | James Pollard | 227 |
| 42 | Phil Martin | 227 |
| 45 | Tom Hetherington | 226 |
| 46 | Billy Ansty | 223 |
| 47 | James M | 221 |
| 47 | David Scott | 221 |
| 49 | Josh Enlander | 220 |
| 49 | Jon Greening | 220 |
| 51 | Issy Orwin | 220 |
| 52 | Elle Partington | 219 |
| 53 | Dan Jordan | 218 |
| 54 | Seamus Fallows | 217 |
| 54 | David Carter | 217 |
| 54 | Davey Poremba | 217 |
| 57 | Adrian Meacher | 213 |
| 58 | Matt Powson | 211 |
| 58 | Rich Horne | 211 |
| 58 | Carl Dilbo | 211 |
| 58 | J Blake | 211 |
| 62 | Declan McGuinness | 209 |
| 63 | Mike Austin | 206 |
| 64 | Suffian Saied | 205 |
| 65 | Josh Rawson | 202 |
| 65 | Stephen Dryden | 202 |
| 67 | Alistair Hargreaves | 201 |
| 68 | Matt Harrison | 200 |
| 69 | Ronnie Edwards | 199 |
| 70 | Luke Lad | 198 |
| 71 | Stephen Madgwick | 197 |
| 71 | Cameron Driver | 197 |
| 73 | Pawel Jedrzejewski | 196 |
| 74 | Emma Rawsthorne | 195 |
| 75 | Agi Cornelisen | 194 |
| 75 | Joe Clark | 194 |
| 77 | Jack Davis | 193 |
| 78 | Rosa Arnold | 192 |
| 79 | Phil Plaskett | 190 |
| 80 | Liz Shaw | 189 |
| 81 | Melissa Benbow | 188 |
| 82 | Harvey Wilson | 187 |
| 83 | Matt Poole | 182 |
| 83 | Kimmy White | 182 |
| 85 | Barry Blackburn | 181 |
| 85 | Graham ward | 181 |
| 87 | Sean Seery | 179 |
| 88 | Barney Angus | 172 |
| 89 | Alastair Munroh | 170 |
| 90 | Will Poylett | 168 |
| 90 | Jed Gold | 168 |
| 92 | Charlie Langley | 167 |
| 93 | Andrew Garrigle | 166 |
| 94 | Connal Brown | 165 |
| 95 | Adam How | 164 |
| 95 | Seth | 164 |
| 95 | Eleni Karinou | 164 |
| 98 | Frazer Wagg | 163 |
| 99 | Jems Smoreflaft | 162 |
| 99 | Sam Adey | 162 |
| 101 | Steve Mullen | 161 |
| 102 | Mathew Rhodes | 158 |
| 103 | Callum Marriott | 157 |
| 103 | Jonny Bird | 157 |
| 103 | Mike Robinson | 157 |
| 103 | Onur Bastekin | 157 |
| 107 | Scott Hagen | 156 |
| 107 | Ruth Hardy | 156 |
| 109 | Greg Welsh | 155 |
| 110 | Louise Prentice | 152 |
| 110 | Victoria Gillon | 152 |
| 112 | Sam Powley | 150 |
| 113 | Mathew Beanland | 147 |
| 113 | Andy Pulham | 147 |
| 115 | Sam Ward | 146 |
| 116 | Joe Rodgers | 141 |
| 116 | James Rowland | 141 |
| 118 | Pat | 137 |
| 119 | Sam Fisher | 136 |
| 120 | Charlie Jackson | 134 |
| 121 | Stephen Hixon | 133 |
| 122 | Mix Cunningham | 132 |
| 123 | Toby Routledge | 131 |
| 123 | Seanie Laidler | 131 |
| 125 | Daniel Clayton | 130 |
| 126 | Adam Davidson | 129 |
| 126 | Ian Blackburn | 129 |
| 128 | Bethan Scott | 128 |
| 129 | Masashi Stokoe | 126 |
| 130 | Luke Nevins | 125 |
| 131 | Dan Furey | 124 |
| 132 | Adam Morrell | 119 |
| 132 | Laura Fisher | 119 |
| 134 | James Collett | 118 |
| 134 | Graham Oakes | 118 |
| 134 | Sophie Lim | 118 |
| 137 | Sophie Boyd | 117 |
| 138 | Andrew Nevins | 115 |
| 138 | Kerry Gallagher | 115 |
| 140 | Ben Ward | 111 |
| 141 | Andy G | 110 |
| 142 | Chris Brown | 108 |
| 143 | Jason Shek | 107 |
| 143 | Nicola McCoy | 107 |
| 145 | George Attwood | 106 |
| 146 | Emma Tate | 105 |
| 147 | Finn Conlon | 104 |
| 147 | Yvette Pnee | 104 |
| 147 | Amelia Brady | 104 |
| 150 | Will Barnard | 101 |
| 150 | Philip Yin | 101 |
| 150 | Beril Berkhem | 101 |
| 153 | Tom Corner | 100 |
| 153 | Daniel Hall Ballester | 100 |
| 153 | Oliver Hunter | 100 |
| 153 | Annabelle Davies | 100 |
| 153 | Lauren Rogers | 100 |
| 158 | Steph Lai | 98 |
| 158 | Fergus McCarthy | 98 |
| 158 | Carlo | 98 |
| 161 | James Burn | 95 |
| 162 | Lee Rodgers | 94 |
| 163 | Alex Davidson | 88 |
| 163 | Joe O'Neill | 88 |
| 163 | Claudia | 88 |
| 163 | Annabel Parslow | 88 |
| 167 | Rory Mobkinson | 87 |
| 167 | Emily Cole | 87 |
| 167 | Eloise Bull | 87 |
| 170 | Shaun Eccleston | 86 |
| 170 | Andie Jones | 86 |
| 172 | Lloyd Owen | 82 |
| 173 | Eliza Wood | 80 |
| 173 | Chas | 80 |
| 173 | Gemma Andesson | 80 |
| 173 | Steve Moorhead | 80 |
| 173 | Hannah McLaughlin | 80 |
| 173 | Lauren Corbitt | 80 |
| 179 | Oliver Crosby | 79 |
| 180 | Luke Kelly | 78 |
| 180 | Will Harris | 78 |
| 182 | Ollie Peel | 77 |
| 182 | Ben Clegg | 77 |
| 182 | Pippa Jowett | 77 |
| 185 | Polly Kerr | 73 |
| 186 | Rasa Solanki | 72 |
| 187 | Zara Cook | 71 |
| 188 | Benjamin Deepak Znian | 70 |
| 188 | Karen Graham | 70 |
| 188 | Bella G | 70 |
| 191 | Michael Long | 69 |
| 192 | Katri Cornelisson | 64 |
| 193 | Emma Coulson | 61 |
| 194 | Ryan Brennan | 60 |
| 194 | Joseph Salgado | 60 |
| 196 | Kev | 57 |
| 197 | Matt Gernett | 50 |
| 197 | Beckie Stewart | 50 |
| 197 | Rachel Wright | 50 |
| 200 | Leila Nevins | 40 |
| 201 | Henry | 37 |
| 202 | Tegan Paku | 30 |
| 203 | Chris Campbell | 10 |
| 203 | Claire McGakan | 10 |