2019 Junior and inter-school competition
| Friday 21st June - Sunday 30th June
See the tabs above for individual and team results.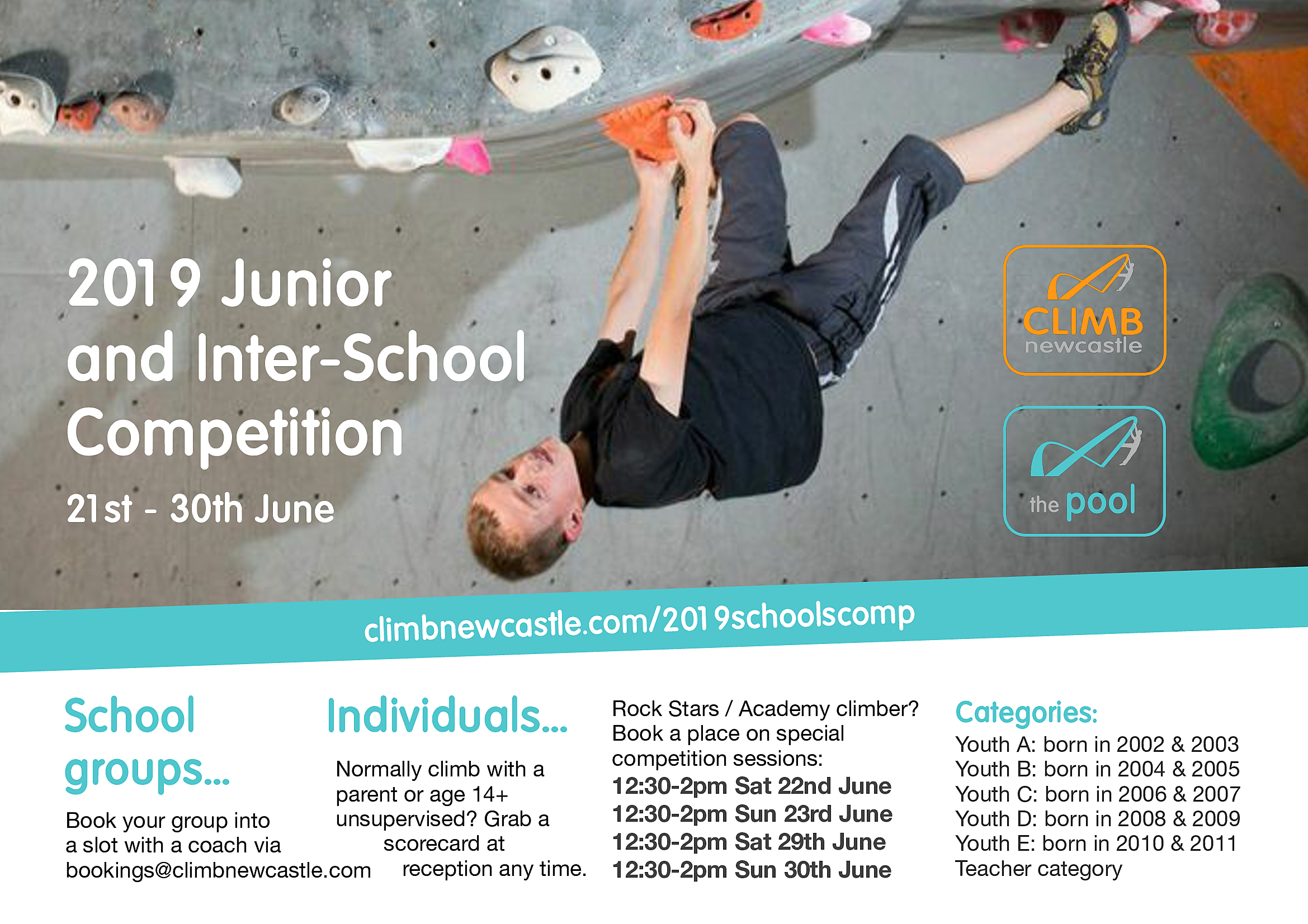 The 2019 North East Junior and Inter-School Climbing Championships will be held at Climb Newcastle between 21st and 30th June. This individual and inter-school competition is one of the biggest junior climbing events held in the UK and is open to those born between 2002 and 2011.
Entry Forms and Information
For school groups:
Please download entry forms here for your entrants and distribute for parental signatures. You will need a 90 minute slot at the centre to climb in - please contact the centre to arrange a slot on 0191 2762174 or by e-mail to abi@climbnewcastle.com. Entry is £10pp.
For individuals:
Download an entry form here to bring along on the day (which also includes a copy of the rules). This must be completed by all participants, so that we know you have parental permission to take part in the event.
If you already climb at the centre unsupervised you can come and try the problems any weekday evening during the week after school. There's no need to book a slot, just come on down - a staff member will be on hand to judge and answer questions.
Alternatively there will be a supervised session running as follows for participants who would normally come to a coaching session (e.g. rock stars or academy). Booking is required for these sessions.
Saturday 22nd June - 12:30-2pm
Sunday 23rd June - 12:30-2pm
Saturday 29th June - 12:30-2pm
Sunday 30th June - 12:30-2pm
Please note that the academy sessions in the morning on these days will be normal coaching sessions, and will not involve taking part in the competition
The teacher's category - to enter you must be a teacher at a school or college in the region and can climb in an individual slot or with your group if you're bringing one - no need to fill out an entry form, just collect a scorecard when you arrive.
Competition Rules
In order to enter the event, competitors should have climbed before or be under the supervision of a Climb Newcastle coach for the duration of their climbing time.
Categories will follow the IFSC (International Federation of Sport Climbing) system:
Youth A those born in 2002 & 2003
Youth B those born in 2004 & 2005
Youth C those born in 2006 & 2007
Youth D those born in 2008 & 2009
Youth E those born in 2010 & 2011
There is also a category for school/college teachers – you must be a teacher at a North East school or college (area as stated below).
Competitors should be resident in the North East (Northumberland, Tyne and Wear, County Durham or Teeside) or be a student at a North East school or college.
Each Problem starts with hands on the marked (taped) handholds.
A successful attempt will finish matching the last hold in control with two hands.
Volumes and aretes are in on all problems, use them wisely and ask a member of staff if you aren't sure what this means.
You have 90 minutes to try the problems. Points are awarded as follows... 10 points for a successful 1st attempt, 7 points for 2nd attempt, 4 points for 3rd attempt & 1 point for any go thereafter.
Your scorecard should be countersigned by a staff member or a fellow competitor. Cheating or bending the truth on your scorecard will not be tolerated.
Each school is permitted to enter as many individuals as they wish and scores will be pooled with other school members even if they did not attend as part of a school group.
School rankings are calculated as the sum of the top 3 individual scores in an age category.
Results will be announced online after the event.
The judge's decision is final.
Category winners (except staff), you can collect a medal from reception at The Pool.
| | | | |
| --- | --- | --- | --- |
| | Youth E Female | | |
| 1 | Amber Earl | Dinnington | 187 |
| | | | |
| | Youth E Male | | |
| 1 | Brody Richardson | Coquet Park First School | 177 |
| 2 | Noah Adey | Allendale Primary | 167 |
| 3 | William Dawes | St. Agnes Primary | 164 |
| | | | |
| | Youth D Female | | |
| 1 | Polly Kerr | Hotspur Primary | 257 |
| 2 | Hannah Egginton | Neviles Cross Primary | 228 |
| 3 | Bella Grimman | Corbridge Middle School | 219 |
| 4 | Sophie Knox | High Spen Primary | 207 |
| 5 | Leila Nevins | Sacred Heart Prmary | 167 |
| 6 | Eve Dawes | St. Agnes Primary | 147 |
| 7 | Lola O'Shaughnessy | GEMS | 107 |
| 8 | Beatrice Merchant | GEMS | 60 |
| 9 | Skye Appleby | GEMS | 20 |
| | | | |
| | Youth D Male | | |
| 1 | Callum Duncan | St. Oswalds | 238 |
| 2 | Duncan Robb | West Jesmond Primary | 234 |
| 3 | Philip Wierzbicki | Lingey House Primary | 211 |
| 3 | Adam Stout | GEMS | 211 |
| 5 | Oliver Peel | Sacred Heart Prmary | 207 |
| 6 | Ethan Cheung | GEMS | 191 |
| 7 | Joey Sedman | Northburn Primary | 170 |
| 8 | Fynn Nestor-Robson | GEMS | 167 |
| 9 | Patrick Hull | Cragside Primary | 150 |
| 10 | Noel Mason | GEMS | 147 |
| 11 | James Hobson | St. Margrets | 120 |
| 12 | Jed James Winter | GEMS | 117 |
| 13 | Finlay Dowling | GEMS | 114 |
| | | | |
| | Youth C Female | | |
| 1 | Lilia Smith | GEMS | 247 |
| 2 | Erica Elsom | GEMS | 234 |
| 3 | Sophie Somerville Roberts | RGS | 194 |
| 4 | Erin Bannister | Dame Allan's | 190 |
| 5 | Chloe Green | RGS | 174 |
| 6 | Ben Leitch | Dame Allan's | 170 |
| 7 | Yasmin Bannister | Dame Allan's | 144 |
| 8 | Faizan Talkhani | Dame Allan's | 137 |
| 9 | Caoimhe Ware | Dame Allan's | 128 |
| 10 | Piper Rai | Dame Allan's | 114 |
| 11 | Charlotte Hunter | Dame Allan's | 108 |
| 12 | Libby Fletcher | GEMS | 104 |
| 13 | Amy Clough | Elemore Hall | 20 |
| | | | |
| | Youth C Male | | |
| 1 | Fred Williams | Dutchess Community High | 280 |
| 2 | Luke Nevins | Sacred Heart Prmary | 277 |
| 3 | Ben Crosby | GEMS | 255 |
| 4 | Joe Bottomer | Dutchess Community High | 237 |
| 5 | Adam Jackson | Dame Allan's | 225 |
| 6 | Alexander Kelley | Lorbridge Middle | 217 |
| 7 | Charley Elwell | Dame Allan's | 199 |
| 8 | Isaac Jordan | Elemore Hall | 191 |
| 9 | Ruari Schroeder-Wetherspoon | Dame Allan's | 190 |
| 10 | Fin Forrest | Dame Allan's | 190 |
| 11 | Ethan Carter | Dame Allan's | 155 |
| 12 | Alan Jack Brown | GEMS | 154 |
| 13 | Adam Townend | GEMS | 154 |
| 14 | James Shewring | GEMS | 154 |
| 15 | Will Crewdson | Dame Allan's | 151 |
| 16 | Patrick Mallen | Dame Allan's | 150 |
| 17 | Charlie Bell | Dame Allan's | 147 |
| 18 | Stefan Dukaric | Dame Allan's | 147 |
| 19 | Jonathan Merchant | GEMS | 137 |
| 20 | Lance Anderson | GEMS | 125 |
| 21 | James Quinton | St. Oswalds | 118 |
| 22 | James McGowan | Dame Allan's | 117 |
| 23 | Connor Storey | Elemore Hall | 110 |
| 24 | Sam Turner | Dame Allan's | 101 |
| 25 | Aaron Law | Dame Allan's | 100 |
| 26 | Harry Rice | Dame Allan's | 50 |
| | | | |
| | Youth B Female | | |
| 1 | Victoria Gillon | Southmoor Academy | 280 |
| 2 | Hannah McLaughlin | St. Mary's R.C School | 270 |
| 3 | Annabel Parslow | Ponteland High | 267 |
| 4 | Jemima Hawkins | RGS | 251 |
| 5 | Charlotte Waldron | RGS | 251 |
| 6 | Anna Leitch | RGS | 250 |
| 7 | Annabel Page | Dame Allan's | 242 |
| 8 | Maddie Howe | RGS | 214 |
| 9 | Lydia Mitchell | RGS | 208 |
| 10 | Zoe Greig | RGS | 197 |
| 11 | Hope Moir | RGS | 144 |
| 12 | Crystal Burton | The Oaks | 82 |
| | | | |
| | Youth B Male | | |
| 1 | Jared Watson | RGS | 267 |
| 2 | Isaac Carter | Heaton Manor | 234 |
| 3 | Sam Train | Whitley Bay High | 200 |
| 4 | Robert Jordan | Dame Allan's | 180 |
| 5 | Curtis Wood | Elemore Hall | 141 |
| 6 | Keiran Mulligan | The Oaks | 117 |
| 7 | Ben Needham | Dame Allan's | 110 |
| 8 | Sean Devlin | Elemore Hall | 107 |
| 9 | Josh Smith | Whitley Bay High | 85 |
| 10 | Marcel Crick | Whitley Bay High | 74 |
| 11 | Matthew Whitwell | The Oaks | 72 |
| 12 | Sean Sanderson | Whitley Bay High | 71 |
| 13 | Charlie Crichion | Whitley Bay High | 60 |
| 14 | Sam Jamison | Whitley Bay High | 41 |
| | | | |
| | Youth A Female | | |
| 1 | Issy Orwin | Gosforth Academy | 280 |
| 2 | Miriam Mitchell | RGS | 260 |
| 3 | Eliza Wood | Longbenton High School | 250 |
| 4 | Katie O'Connor | RGS | 171 |
| 5 | Melissa Bradley | The Oaks | 148 |
| 6 | Katie Croud | The Oaks | 104 |
| | | | |
| | Youth A Male | | |
| 1 | Agi Cornelissen | RGS | 280 |
| 2 | Kieron Burn | Cardinal Hume | 270 |
| 3 | Jake Wootton | The Oaks | 110 |
| 4 | Toby Lodge | Epsom College | 105 |
| | | | |
| | Staff | | |
| 1= | Ian Clifton | Elemore Hall | 280 |
| 1= | Tom Hetherington | Mountfield Primary | 280 |
| 1= | Sam Adey | Allendale Primary | 280 |
| 4 | Jack Davis | Castle School Ashington | 277 |
| 5 | Andy Pulham | RGS | 270 |
| 6 | Katri Cornelissen | RGS | 234 |
| 7 | Gareth Dunn | RGS | 180 |
| 8 | Tim Stout | GEMS | 177 |
| 9 | Laura Davidson | The Oaks | 150 |
| | | |
| --- | --- | --- |
| | Youth E | |
| 1 | Dinnington First School | 187 |
| 2 | Coquet Park First School | 177 |
| 3 | Allendale Primary | 167 |
| 4 | St. Agnes Primary | 164 |
| | | |
| | Youth D | |
| 1 | Gosforth East Middle School | 569 |
| 2 | Sacred Heart Prmary | 374 |
| 3 | Hotspur Primary | 257 |
| 4 | St. Oswalds | 238 |
| 5 | West Jesmond Primary | 234 |
| 6 | Neviles Cross Primary | 228 |
| 7 | Corbridge Middle School | 219 |
| 8 | Lingey House Primary | 211 |
| 9 | High Spen Primary | 207 |
| 10 | Northburn Primary | 170 |
| 11 | Cragside Primary | 150 |
| 12 | St. Agnes Primary | 147 |
| 13 | St. Margarets | 120 |
| | | |
| | Youth C | |
| 1 | Gosforth East Middle School | 736 |
| 2 | Dame Allan's | 614 |
| 3 | Dutchess Community High | 517 |
| 4 | RGS | 368 |
| 5 | Elemore Hall | 321 |
| 6 | Sacred Heart Prmary | 277 |
| 7 | Lorbridge Middle | 217 |
| 8 | St. Oswalds | 118 |
| | | |
| | Youth B | |
| 1 | RGS | 769 |
| 2 | Dame Allan's | 532 |
| 3 | Whitley Bay High | 359 |
| 4 | Southmoor Academy | 280 |
| 5 | The Oaks | 271 |
| 6 | St. Mary's R.C School | 270 |
| 7 | Ponteland High | 267 |
| 8 | Elemore Hall | 248 |
| 9 | Heaton Manor | 234 |
| | | |
| | Youth A | |
| 1 | RGS | 711 |
| 2 | The Oaks | 362 |
| 3 | Gosforth Academy | 280 |
| 4 | Cardinal Hume | 270 |
| 5 | Longbenton High School | 250 |
| 6 | Epsom College | 105 |